Pacific Coffee Research was founded by coffee professionals set out to change the Hawai'i coffee industry through education, collaboration, and support services.
We provide education and skills training to baristas, roasters, producers, and everyone who wants to learn something new about coffee. As an SCA Premier Training Campus, our team includes experienced coffee trainers and Authorized SCA Trainers.
Our goals include illuminating the coffee supply chain as something intimately interconnected and explicable only by reference to the whole. Our unique position of operating in a coffee producing region gives us the opportunity to explore the entire supply chain in one location
We strive to promote community and contribute an open space for collaboration. We believe our industry makes great strides forward when we work together to find solutions with a holistic approach.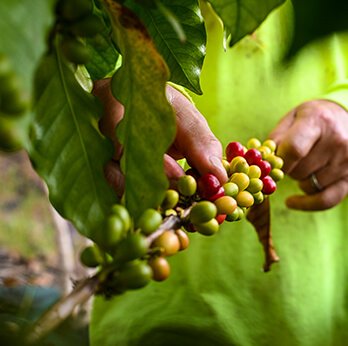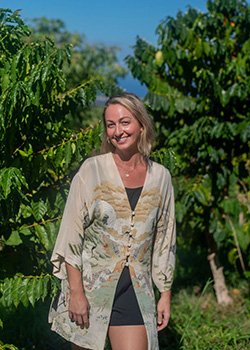 Brit is the Founder and co-owner of PCR. She grew up in the New York City suburbs and began her career working as a barista while studying business management in college. She was led to the specialty coffee industry by way of her love for drinking coffee and her curiosity in supply chains. Brit landed in Kona on a coffee farm in 2014, where she gained hands-on experience with the producing end of the value chain and began working for a specialty coffee roaster in 2015. Brit recognizes that education, in all sectors of the industry, improves the lives of growers, quality of product, and consumer consciousness. This, coupled with her passion for the Hawaii coffee community, brought about the opportunity to start Pacific Coffee Research. Brit is an Authorized SCA Trainer in Green Coffee, Sensory Skills, and the SCA's newest module, Sustainability in Coffee. She is now serving her third year on the executive board for the Hawai'i Coffee Association and as the Chair-person and head roaster for the Kona Coffee Cultural Festival and HCA cupping competitions. Brit actively works to improve Hawai'i coffee awareness on a global scale and lobbies for support for our local industry.
MADELEINE
LONGORIA GARCIA
Since 2010, Madeleine has spent the majority of her time learning about coffee from as many people and experiences as she possibly could. Now the co-owner of PCR, the road map of her career was a winding one that led her up & down the West Coast, across the Pacific Ocean to Hawai'i and Australia, through Southeast Asia, around Central America & Mexico and, finally, back to Hawai'i. With Hawai'i as her home, Madeleine works with local baristas, producers, and other coffee professionals to share her knowledge in the cafe setting and as a sensory specialist. Madeleine leads trainings and educational experiences along with providing Q Arabica grading services to local producers. She has been on multiple judge panels for Hawai'i cupping competitions since 2015, organizes & participates in events hosted by the Hawai'i Coffee Association and Kona Coffee Cultural Festival, and has competed in the US National Brewers Cup. Madeleine is also a Community Coordinator on the SCA US Chapter, representing her local coffee industry from producer to barista, and sits on the Board of the Synergistic Hawai'i Agriculture Council.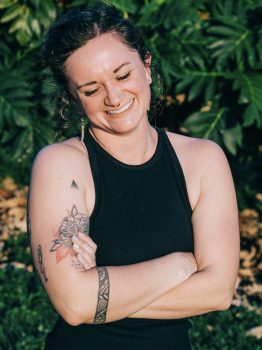 Meg is a Production Assistant at Pacific Coffee Research. In this position, she is busy fulfilling retail and wholesale orders, communicating with various farmers, and doing weekly deliveries of delicious coffee around the island!

Meg started her coffee career as a Barista in Athens, GA in 2014. Since then, she has aimed to work in as many areas of the coffee supply chain as possible, to fully be able to understand and appreciate this amazing product. From being a barista and manager in coffee shops, to working on coffee farms here in beautiful Kailua-Kona, and now to working in our roastery and pursuing further coffee education, Meg is excited to see where Pacific Coffee Research heads next.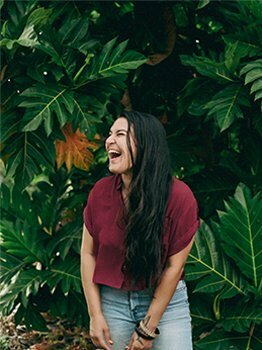 Kealakaiokalani (Alakaʻi) grew up surrounded by coffee in Seattle, Washington as a diaspora Kanaka 'Ōiwi. She began her coffee career at the age of 15 as a volunteer barista.
Over the years, she has worked in the coffee industry as a barista, manager, program manager, community volunteer and coordinator, and event organizer throughout the Pacific Northwest and Hawaiʻi. Alakaʻi moved to Kailua-Kona, Moku o Keawe in 2019 to reconnect with her roots, culture, and ʻohana who is genealogically tied to the Kona district. Currently, she is the Head Roaster of Pacific Coffee Research and a licensed Q Arabica Grader. She is passionate about Hawaiian Sovereignty, conservation and sustainability, and is a water protector. Aloha ʻāina ʻoiaʻiʻo.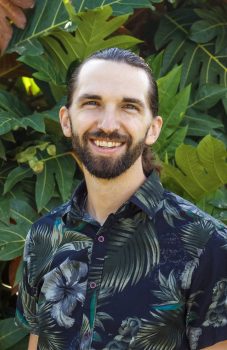 Eric is a tinkerer and a DIY-er not afraid to explore the unknown and figure out how things work. He is now an Equipment Technician and one of the three Arabica Q Graders at Pacific Coffee Research. Eric's on call for the café in distress and also takes a role in PCR's quality control and quality grading for coffees.

Eric started his coffee career a bit later than most at a coffee shop in Clearfield, Utah back in 2020. Once he experienced specialty coffee, he was fascinated and couldn't stop exploring more of this caffeinated world. Since moving to Hawaii, Eric has managed a cafe, become a licensed Q Arabica Grader, trained as an Equipment Technician, and has even started managing a small coffee farm – actually, the one where PCR is located! Eric is always excited to learn and Pacific Coffee Research loves to fuel that passion.